How it works
The ARC Suggestus tool delivers independent insight to help you achieve your and your client's investment goals. 

Within the ARC powered Suggestus tool there is the ability to review over 250,000 investment portfolios across five different currencies.
The tool also provides access to an independent risk profiling tool where client questionnaires can be saved and downloaded. The questionnaires are designed to assist with identifying appropriate solutions for clients based on the given answers. 
In addition, a full quarterly review and appraisal of methodology is also available across all participating managers. These reports include a full performance summary showing 1 yr, 3yr & 5 yr performance, risk adjusted performance and well as performance grades (A-E) according to ARC methodology. 
Manager Matrix
The 'Manager Matrix' has been specifically built to integrate the DFM's and solutions that are available through the Novia Global platform. 
Referred to as the "Novia Global Research Portal" a detailed analysis on each fund manager can be obtained, along with quarterly reviews of each participating manager, as well as performance summaries and a list of available solutions.
This sophisticated tool allows you to compare platform Discretionary Fund Managers performance and actual returns to contrasted peers, but also versus industry recognised Private Client Indices (PCI) which will then categorise the instruments into 4 different risk-rated bands. 
The tool also provides the ability to ensure that investment performance is consistent with desired returns whilst continuing to match a client's risk appetite on an ongoing basis.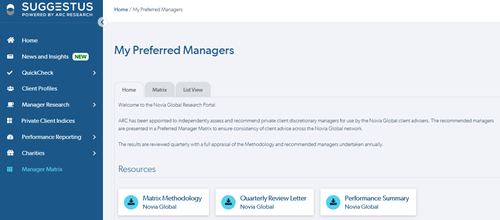 Once registered, the tool is available to access, here.